How to assign or transfer your private number plates
Confused about how to assign your plate from your V750, or transfer your plate from your V778 document?
It's really straightforward.
Read below to learn about these processes.
How to assign a private number plate to your vehicle from your V750 Certificate of Entitlement
When you receive your pink V750 Certificate of Entitlement from Select Number Plates, simply follow the steps below to assign it to your vehicle.
You can't use the new number on your vehicle until you have re-registered your vehicle with the new private number plate.
You'll need to apply to the DVLA, and await confirmation this has been done.
1. Get your documents ready
You'll need to make sure you have the following 2 documents - your V750 Certificate of Entitlement, and your V5C Registration Document.
Check your vehicle is taxed and tested (as is required for the class of vehicle) before you start.
2. Visit the Government website to start the process
https://www.gov.uk/put-registration-number-vehicle
Follow the guidance and instructions on the site.
Upon successful assignment, you will promptly receive online confirmation of your completed task. Additionally, if requested, an email notification will be sent to you. The DVLA will dispatch a replacement V5C through the post, typically within a few days.
In the event of a declined online assignment, please refer to the online instructions or reach out to DVLA for support. Also, review our instructions (outlined below) for the process of assigning your private number plate by post.
3. Change over your number plates
Online assignment occurs instantly. Therefore, it is advisable to switch the number plates at your earliest convenience. If you require the plates to be manufactured, bring identification with you or they will not be legally allowed to make them up for you.
It is not necessary to delay using the registration number on your car until the V5C arrives. You can put them on straight away!
4. Inform your car insurance company
Contact your insurance provider to inform them of the updated registration number for your vehicle. The DVLA does not handle this on your behalf.
Upon receiving the information, your insurance company will update their records and dispatch a replacement Policy Schedule to you. It's worth noting that certain insurance companies may apply an administrative charge for this service.
5. Your new documents will arrive
You will receive a new V5C Registration Document from the DVLA, showing your updated registration number. Expect its arrival within a few days.
However, please note that a replacement MoT certificate will not be dispatched. Instead, the DVLA's computer systems will be automatically updated.
How to assign a private number plate to your vehicle from your green V778 Retention Document
In the case of having a personalised registration number on retention, it will be documented on a green V778 Retention Document. The procedure for applying the registration number to your vehicle closely mirrors that of utilising the Certificate of Entitlement above.
Using DVLA's online service, you can get your personalised number on your car within minutes.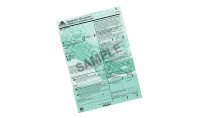 1. Get your documents ready
Ensure that your V5C Registration Document is current and registered in your name. Additionally, both your MoT and road tax must be up to date. It's essential to note that if either of these has expired, you cannot assign a personalised registration number to your car.
While many registration number transfers can be completed online, not all may be accepted. Some transfers, even with all paperwork up to date, might be declined as the DVLA may opt to conduct a thorough check. This is typically not a cause for concern, as there can be various reasons for this precautionary measure. Just get in touch with them to discuss the matter.
2. Visit the Goverment site if you're happy to assign it online
https://www.gov.uk/put-registration-number-vehicle and look for the 'Assign a number online' link.
The number will be assigned immediately if your vehicle does not need an inspection. Be ready to put new number plates on the vehicle as soon as you've applied.
OR 3. Submit your application by post
For those who prefer not to conduct transactions online, you have the alternative of sending your required documents to the DVLA by post. While this method takes a bit more time, the DVLA will notify you once the process is complete.
You'll need to send the following documents
Your completed V778 document - the address is on the form
the vehicle's log book (V5C) or green 'new keeper' slip with a completed V62 'application for a vehicle registration certificate V5C'
In the event that your online application is declined, you might need to send your documents by post to the DVLA. Comprehensive information on the necessary steps for placing your registration number on your car is available for your reference.