Classic Car Autojumbles
23rd October 2016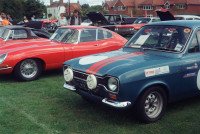 This Weekend the 23rd of October 2016 is one of only three autojumbles left at the big county showground at Newark.
Other dates are bellow, whether you are looking for parts for your old Jaguar Daimler or Lambretta scooter this is a great day out.
Last year we were very pleased with our purchase of two old BSA Bantams and a restoration project Vespa scooter all with original chassis numbers and registration plates.
We hope to see many interesting things this weekend and possible purchase an old car or bike or even some memorabilia, vintage garage signs etc.
Early arrivals gate opens at 8am. Normal admission from 10am
Additional 2016 Dates:
Sunday 23rd Oct 2016
Sunday 20th Nov 2016
Sunday 11th Dec 2016
Additional early-mid 2017 Dates:
Sunday 29 Jan 2017
Sunday 26 Feb 2017
Sunday 2 Apr 2017
Sunday 4 Jun 2017
Sunday 2 Jul 2017
Additional late 2017 Dates:
Sunday 6 Aug 2017
Sunday 24 Sept 2017
Sunday 22 Oct 2017
Sunday 19 Nov 2017
Sunday 10 Dec 2017